Last week, Mozilla announced the latest Firefox nightly build include new Windows 8 inspired UI. If you are an early adopter or have already running Windows 8 on your local machine then you should give it a try !
In order to try out the new Firefox nightly build for Windows 8 here are some steps you need to do.
Download the latest nightly build here.
Make Firefox the default browser of your OS. To do that go to Options > Advanced > General tab > Check "Make Nightly the default browser"
Once you've done that, press the Windows key go to Start menu. You should see the Nightly Firefox has a new icon as seen blow. Click on the Nightly to launch Firefox in Windows 8 full screen mode.
To access the tab switch on the top of your window you need to right click twice on any blank space of the browser. right click once brings up the settings panel on the bottom of the screen.
This is a list of shortcuts that's show up after you right clicked your mouse once.
Give it a try, once you have used it for a while it's definitely a new experience that you won't get out from any other previous version of Windows.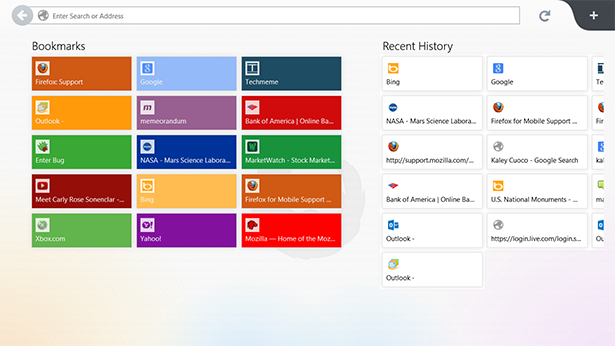 Conclusion
After all this is just a preview of what it might look like in the future release of Firefox, there are still time until the official release of Windows 8. Compare to what Google has done with Chrome this is definitely a welcome edition to the growing Windows 8 apps. Also note, just like IE 10 and Chrome, the full screen mode version of Firefox doesn't support any third party add-ons including Microsoft's own Silverlight. That means if you'd like to play videos streams through Silverlight like Netflix you will be disappointed, but hey, you still got the desktop version of the browser.